Welcome to my "no rules" blog hop!
To participate, simply...
1. Link up: Click on "Click here to enter" at the bottom of this post and follow the Linky Tools directions. In step 4, I recommend selecting "Auto Crop" and "From Web."
2. Find new friends: Click through the blogs and follow the ones you love (via Linky Followers, Google+, RSS, GFC, Twitter, Facebook, e-mail, etc.). Kindly pass by the ones you don't.
I'll gladly follow back all who follow me, so long as you leave a comment on this post to let me know! I'm not as sharp as I used to be ;) Family friendly only, please!
This week's Fine Feathered Friend is Kelly at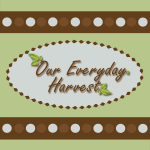 Our Everyday Harvest is all about positivity and giving thanks to the Lord for all that he's bestowed on us throughout our lives. Everyone is welcome! While here, you'll read about the art of saving money and the organization of home and family. Readers will receive information on frugal living by way of couponing, shopping deals, contests and freebie giveaways, as well as recipes, household tips and tricks, and a little of this and that in between.
In my mind, Kelly's beautiful blog is what my blog will be when it grows up :) From couponing to housekeeping to faith, it has posts about everything one would desire to find on a "mom blog." She's also hosts the Harvest of Friends Weekend Blog Hop. I hope you'll consider stopping by and following her well-rounded blog!
Do you know how EASY it is to be next week's Fine Feathered Friend?
Click here
to find out how to get some blogosphere coverage, free and easy.
Feather Your Nest
GIVEAWAY LINKY
(that's it over to your right)!
Add a few of your own
or enter ones to your liking.
Need a little help?
If this is

all new to you, click

here

.

If

your goal is to find friends and gain followers,

may I recommend that you

set a goal to find and follow a minimum number of blogs that interest you. Check back throughout the day to visit late entries that might be just your cup of tea! Leave a

comment

if you follow, and consider following back those who follow you.

If you see empty boxes with red x's instead of pictures in the linky, try clearing your cache (Go to Tools > Internet Options > Under the General tab and Browsing History section, click "Delete"> check Temporary Internet Files > Delete > then refresh or reload Mom's Best Nest).